Thanks to award-winning book blog Dru's Book Musings, today I got to showcase the human heroine of A Cat on the Case. What fun!
Becca Colwin by Clea Simon
Jan 22, 2021 | A Day In My Life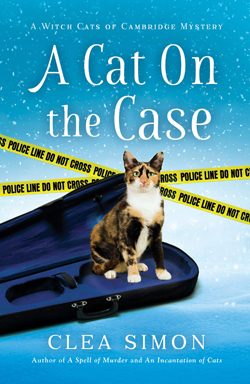 A friend is supposed to have your back, right?
I wish I didn't have to even think about this right now. This winter has been hard on everyone, and with my building going condo, I've got enough to worry about. Thank the Goddess, my position at Charm and Cherish seems safe – I've got three cats to feed! Though with foot traffic down, I'm not sure how long the sisters can keep the little magic shop going. But to have reliable old Maddy doubt me? Well, that's a lot.
I understand that she doesn't like my coven. She says that our spells are bunk and that as a researcher – a former researcher – I should know better, especially since only one of them has ever really worked. But I think she's just a little jealous of our weekly circles, and she's gone too far now to join us. I also get that she doesn't like me setting myself up as a witch detective. She wants me to get a regular job, like she has.
But I can't turn my back on my powers. Especially now that someone really needs my help. Ruby only came to this country to study music. It's not her fault that her landlord was murdered, no matter what Maddy suspects. Besides, my cats seem to like Ruby. Laurel, the Siamese, is really fond of her violin, and Harriet has allowed Ruby to sit on "her" pillow. True, Clara – my little calico – is more curious about Ruby than her littermates. But Clara always acts as if she's taking care of me, instead of vice versa.
Sometimes I think that Clara and Maddy are on the same page. Both of them behave as if they're responsible for my safety – or like, maybe, they know a more about what's going on than I do. But that's crazy, right? Because Clara is only a cat. And Maddy, my best friend, should have a little faith in me – even if she doesn't understand the obligations of a fledgling witch detective.
---
A Cat on the Case by Clea Simon, Witch Cats of Cambridge Mystery #3
Genre: Cozy
Release: January 2021
Purchase Link
When a panicked stranger shows up at Charm and Cherish seeking advice – and maybe something more, Becca Colwin knows it's her duty to help. The aspiring witch detective understands how challenging the city can be for a young woman alone, especially as the New England winter tightens its frigid grip. Plus, with her apartment building going condo, Becca needs all the clients she can get in case she has to find a new home for herself and her three cats.
But when that stranger disappears, leaving behind her heirloom violin, the case grows complicated – and the discovery of a dead body right next door puts Becca in danger from the law… and maybe a murderer as well. Although Becca's cats don't want her to get any more involved, they know their person won't abandon the young musician who seems likely to be framed for the crime. The three littermates – bossy Harriet, manipulative Laurel, and gentle Clara, the calico baby of the litter – may squabble like all sisters, but each of the magical cats must use her particular skill if they're going to keep Becca safe. Together the three felines must untangle a web of deceit and intrigue complicated by the history they share with the person they are sworn to protect.
About the Author 
A former journalist, Clea Simon is the Boston Globe-bestselling author of three nonfiction books and nearly 30 mysteries. These alternate between cozies, like her new A Cat on the Case, the third witch cat of Cambridge mystery (out Jan. 26 from Polis Books), and the darker psychological suspense of World Enough(Severn House), a Massachusetts Book Awards "must read," and her upcoming Hold Me Down (Polis Books). She can be reached at cleasimon.com.